The programme facilitators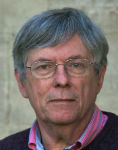 GEORGE PERRY is a development consultant working with clients on the organisational issues of change, team building and lean thinking as well as biography and self-development.


LAURI SALONEN has worked as a consultant and management trainer since 1973. His areas of specialisation include change management, company strategies, project management and action learning.
George and Lauri are members of the Association for Social Development – an international network of experienced consultants.